Visit China, the country is all around us in more ways than one, Mandarin is a dominant business language, the gadget you're reading this on was probably manufactured there, if not, you still have something with the "Made in China" tag, we're all fans of Jackie Chan, and of course, there's Chinese food (altogether customized to meet local taste) which we all love! We strongly recommend you visit China, soon!
When it comes to visiting China, travelers usually show a mixed bag of reactions, the first group are excited, it's a big country, the experience is new, the culture and history is vastly different, and there's more to experience without burning a hole in your pocket. The second group are apprehensive, more or less for the same reasons, there's a communication barrier, China is polluted, overpopulated, they may get a culture shock and so on. Most of these people are unaware of the beauty China has to offer to the world, we are here to change the perceptions of those very people. Honestly, your next stop should be China. In no particular order, here is our list of 40 reasons to visit China.
1. Panda Bears: The cutest creatures to walk the planet are also the "National Animals" of China. The Giant Panda bear can make anyone jealous, who wouldn't love to eat and sleep all day? Image: Franz Till
---
2. Chinglish: We all have to agree, China's language is way different from English, but the amalgamation of those two is what makes "Chinglish" (Chinese and English) a language that's amusing and easy to understand, look beyond the grammatical errors, and you may find a useful message. Image: gracetaiwan.blogspot.com
---
3. The Great Wall of China: The iconic landmark of China, visible from space, measuring 6,259 KM is reason enough to visit China. National Geographic suggests it is among the best hikes of the world too. On your way, you find walled paths, trenches, and your occasional hill and waterfall. Image: Anthony Rae
---
4. The Great Wall Music Festival: If just seeing the longest boundary wall used for defense purposes in the ancient world wasn't enough, there's also a Music festival that happens here, and legendary DJs like Armin Van Buuren and Afrojack are known to play there. Image: GreatWallMusicFestival.com
---
5. Terracotta Army: The terracotta army of Xi'an has a sense of mystery and awe around it, the historic and well maintained statues of soldiers are a sight to behold, no more will you be limited to seeing them in movies and Asian themed restaurants. Image: Minh Tran Vu
---
6. The Warm Welcome: People who don't "Look Chinese" are often stared at, but smile back at them and you will be treated like a celebrity, to the point that they ask you for a group picture. This isn't unheard of, and is true mostly because a lot of Chinese people haven't travelled overseas, and know only of their provincial differences. See it to believe it, no pictures for this one!
---
7. Beijing: The political, cultural and educational capital of China is where you'll find tradition meeting modernity.  The Olympic games of 2008 were held here, and if you can see beyond the smog, there's something for everyone here. Image: Ray An
---
8. The Forbidden City: The ancient city, within a city, has 9000 rooms and spans 250 acres, it was built in the 1400s, but was destroyed and ransacked, thus the things to see today are actually reconstructions from the 18th century. Image: Jun Palomo
---
9. Tiananmen Square: In 1949, Chairman Mao announced and introduced "People's Republic of China" to the world from Tiananmen Square, there was also a very popular incident of a man facing a tank, that happened here. All in all, it is a must see for visitors to China. Image: Nebojša Marković
---
10. Temple of Heaven: This is a temple in Southern Beijing that served as a sacrificial complex for Emperors of the Qing Dynasty, what is special here is the Kung Fu and Taiji practice that happens early in the morning, other than that, there are temples built to honor the various forces of nature making it a very holy site for the Chinese. Image: Jeff Krause
---
11. Ming Tombs: 50 Kilometres outside Beijing is the site where 13 of the 17 Ming Emperors are buried, this is easily combined with a day trip to the great wall so you can see both within a day! You can actually go and see an underground burial chamber here. Image: danielseidel.com
---
12. Summer Palace: 10 square miles of Imperial manicured and perfect garden space in suburban Beijing, this is among the oldest gardens of China. It has ancient buildings one can walk around, admire or just go there to have a picnic. Image: Mossadeque Rahman
---
13. The Bird's Nest: Beijing's Olympic Stadium goes by the name of bird's nest, it was made for the 2008 Olympic Games in China, and has since, become a part of Beijing's modern side. After the olympics, there were several changes which converted it to a Water themed park called the "Water Cube". Image: John Chandler
---
14. Peking Duck: You have read about it in your food menu at that fancy Asian Restaurant you last visited, it was really expensive, and you were apprehensive of eating duck, so you let go. But a visit to Beijing, or China in general would be incomplete without trying the Peking Duck, it is much cheaper here too! And in case you didn't know, Peking and Beijing are the same thing. Image: Qishan Han
---
15. Niujie Mosque: This is the oldest mosque of Beijing, having been built over a 1000 years ago, this is the place to see if you want to see how Chinese art and architecture merged with Islamic influences. Image: Sayid Barsanov
---
16. Space 798: This is where the artsy crowd of Beijing is holed up, the "SoHo" of Beijing, it is called factory 798, or space 798 and is actually an old military factory no more in use. Image: Abdullah Tahir
---
17. Tang Paradise: This is the commemorative monument built in Xi'an to honor the Tang dynasty, which existed way before the Qing and Ming Dynasties, if you are a history buff, you should check these places out. Image: Halleeinchina.blogpsot.com
---
18. Qiandaohu The Thousand Island Lake as it is known in English is in the Zhejiang region of China, This man made lake holds lots of islands scattered here and there, and the water is mostly potable. Image: itoptrip.com
---
19. Big Wild Goose Pagoda: Located in Xi'an in China, this building is of prime importance to the Chinese, one can even climb up and into the pagoda, it's meaning to the Chinese is similar to what the Statue of Liberty is to America. For a reference in popular culture, the villainous goose in Kung Fu Panda 2 was housed here. Image: Lucian Lee
---
20. Military themed amusement park: Minsk World in Shenzhen is a military themed amusement park where a Soviet ship by the name of Minsk is the main attraction. They have military based exhibits for those who are fascinated by such things.  Image: Wikimedia Commons
---
21. Window to the World: If you've seen China, and seen the Window to the World in Shenzhen, there's hardly anything left to see, with replicas of the Taj, Eiffel Tower, Mt. Rushmore, and local Chinese events and cultural exhibits taking place, this is the microcosm of globalization. Image: WestChinatours.com
---
22. M1NT: If you like partying, and living on the edge (literally and figuratively), M1NT in Shanghai is the place for you, it is a club that is perched on the 24th floor of a building and it screams chic, and if that's not enough, they have a shark tank too. Image. Chinaprim.ru
---
23. Super cheap counterfeit goods: Admit it, if there's a bargain, it's bait and you're the shark. China is the place for you, try the Science and Technology Subway station in Shanghai if you want fake goods: from tech accessories to shirts to women's apparel. If you aren't in Shanghai, don't worry there's plenty of places where you'll find a bargain. Image: Nithibhan.com
---
24. Xiao Long Bao: The second food item we suggest you should try, this is a steamed dumpling soup which is Shanghainese specialty. Image: Dave Alcan
---
25. Xintiandi: The traditional narrow streets and a car-free zone with options for entertainment and food, Xintiandi is a hot tourist spot for visitors of Shanghai. It's also an easy escape from the vehicle noise and city hustle and bustle that Shanghai is known for. Image: David Lieu
---
26. Chen Clan Academy: The structure is a spiritual and academic complex that was finished in 1894 thanks to the generous aid from the Chen Family. Go here to see well preserved Chinese architecture. Image: Wikimedia Commons
---
27. Yuyuan Garden: This garden in Shanghai is now a huge hit with tourists because one can escape the noisy and polluted China and find some peace here, YuYuan translates to peace for the body and the person responsible for making it, is rumored to have sacrificed his life savings to build a garden that would please his aging parents. Image: Wikimedia Commons
---
28. Chinese Theater: Chinese theater is expressive and has meaning, characters are female or male or animals, there is also a high possibility of having a clown in the play, most importantly, Chinese theater focuses on the interpretation and depiction of pretty and ugly, big and small, and good and bad. Image: Peter Stewart
---
29. Karakul Lake: Ride the Karakoram Highway, one of the most dangerous routes in the world to be rewarded by stunning views of Karakul lake, the snowcapped mountains are reflected through the mirror-like clarity of the lake. Image: Ken Koh
---
30. Canola Flower Fields: Vincent Van Gogh's Happiness color was yellow, and if yours is too, head to Luoping in China where they have endless seas of Canola Flowers, it's yellow till as far as the eye can see! Image: popsugar.com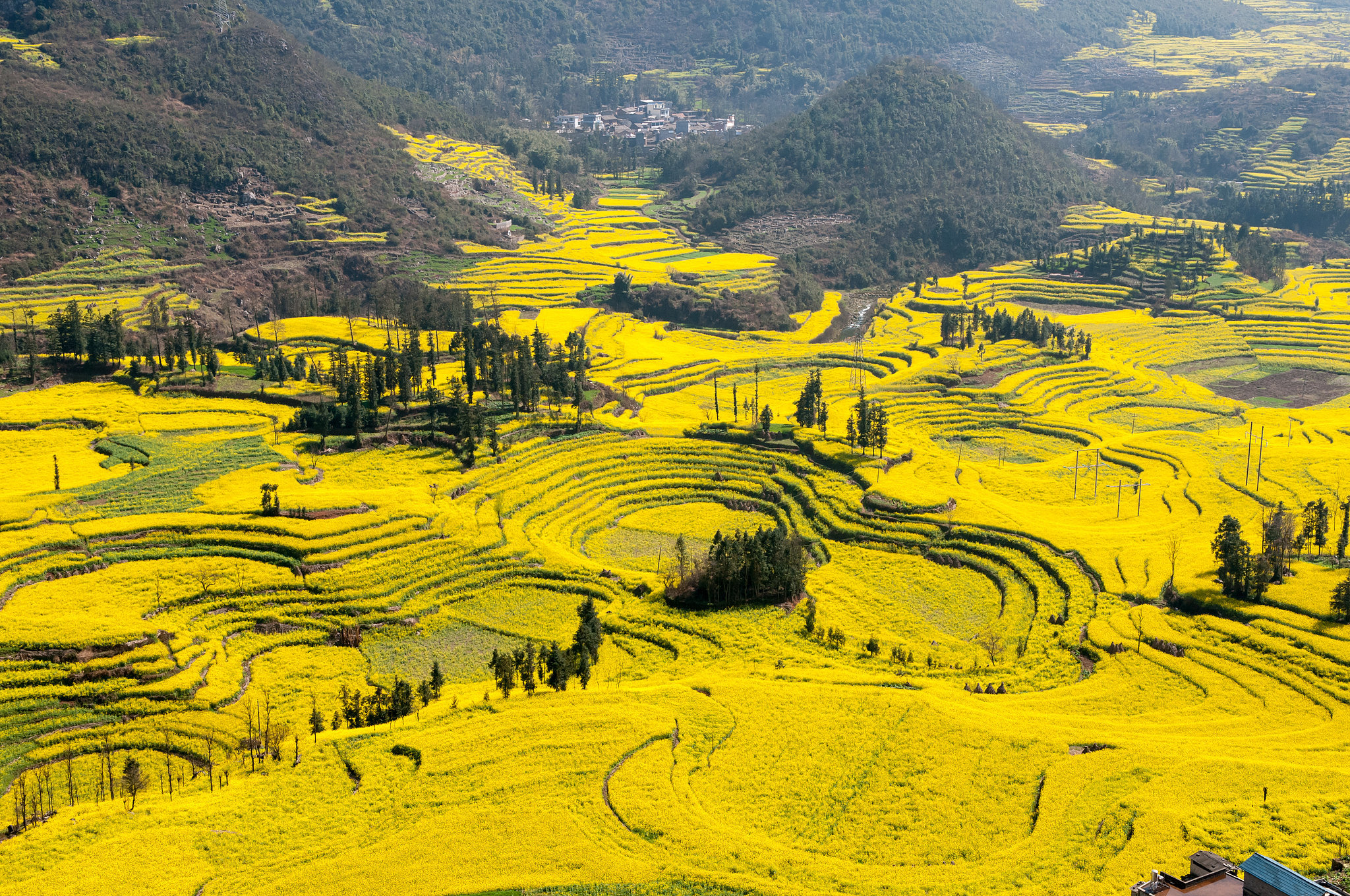 ---
31. Tianzi Mountains: If you have seen the mountains that float in the air, in the movie Avatar, they were inspired by the Tianzi mountains, literally like pillars that rise up to touch the sky, you should check these out if you are an altitude seeker. Image: Julian Au
---
32. Danxia landform: You would have never imagined mountains which aren't green, or amber, but here you have mountains with the colors of the rainbow, no the images aren't photoshopped, yes, this place exists. The mountains are a natural formation which became so when minerals of different nature were pressed together millions of years ago. Image: Deluxebattery.com
---
33. Leshan Giant Buddha: The largest Buddha statue is in Leishan, overlooking the Emeishan Mountain range. It is 71 meters tall and has been around since the Tang dynasty. Image: Wikimedia Commons
---
34. Panjin Red Beach: Home to more than 290 different types of birds and animals, even though the beach is called "Red beach" the water is not red, the grass growing in the wetland is capable of growing in alkaline soil, so it takes a red shade that becomes more vivid with age. Image: ctc.com
---
35. Yungang Grottoes: These are Chinese Buddhist Stone carvings from the 5th and 6th century, there are more than 51,000 Buddha figures here. The Yungang grottoes are in the Datong region of China, it is also among the 3 most popular Chinese Buddhist sites. Image: Jacky CW
---
36. Benxi Water Caves: What is so special about a 5 million years old network of stalagmite and stalactite caves you ask? Add some water and lights along the way and let magic unfurl. Image: Livelaughlovetravel.org
---
37. Moon Hill: This hill near Yangshuo has a natural arch going through it, which is the remnant of a limestone cave. There are also rock climbing routes other than a cemented path, should you choose to awaken your adventurous spirit. Image: Terrafirmatourist.com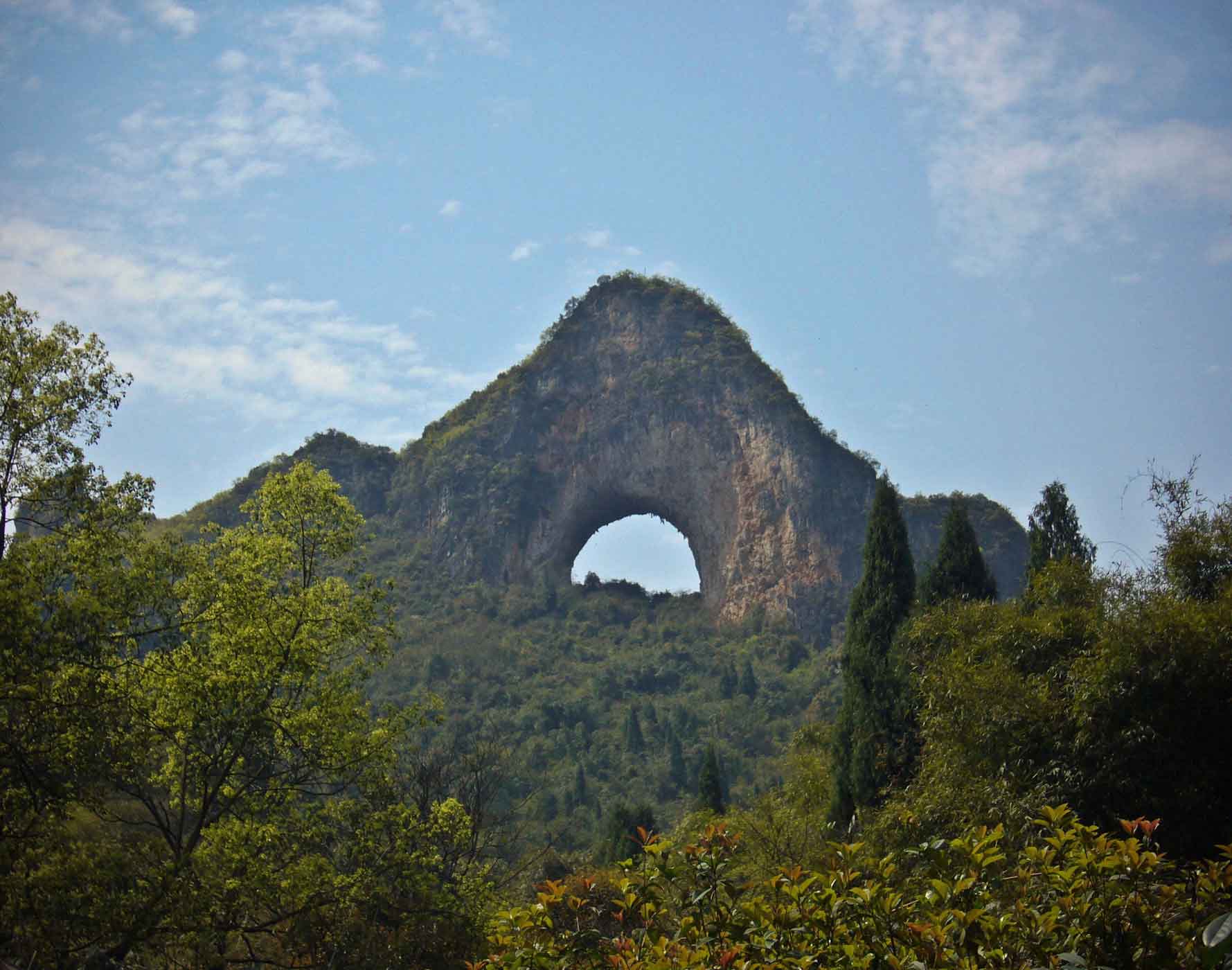 ---
38. Yalong Bay: Not to be confused with Ha Long Bay of Vietnam, Yalong Bay is a 7.5 kilometre long beach and is often considered the best beach in Hainan Province of China. It also has luxury hotels studded on the coastline, so it is a perfect spot for luxury seeking holidayers. Image: Jiabin Li
---
39. Wuyi Mountains: Wuyi mountains are popular for those who seek scenic beauty, but other than just that, thrill seekers can take a rafting trip and also check out out the "Thread of sky" cave, this is because the sky is visible only as a mere line since the walkway is sometimes as short as 30cm! Image: Yikai Li
---
40. Huangguoshu Waterfalls: Thiss 220 feet tall waterfall is the tallest in East Asia, but if that doesn't interest you and you have seen way too many waterfalls to be interested, there's one thing that'll blow you away. Like hollywood movies often show caves hidden behind waterfalls, there's one just like that here. Image: Dark Sun
---
Visit China, it has so much to offer, for each and everyone.